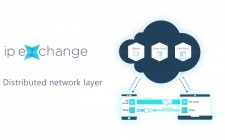 HERGISWIL, Switzerland, February 21, 2018 (Newswire.com) - IPSX is a smart contract based, blockchain protocols and utility token used as an incentivized mechanism of sharing IPs among actors from all over the world and a framework to build applications that require IPs built in a reliable and transparent environment.
IPSX platform recently finished its private investment session and raised 6,500 ETH and is going to launch into its public Token Generation Event phase shortly.
The Swiss-registered company is excited and at the same time grateful for the high demand that they had during private investment phase where more than 30,000 ETH were asked. However, they only accepted 6500 ETH as the token generation event's hard cap is set to 10,800 ETH. With 6,500 ETH being raised in private investment, there are 4,300 ETH more available for the public.
The TGE event period is expected to start on 28 Feb 2018 and will end on 5th March 2018 or when the supply of IPSX tokens is exhausted. Any amount of token purchases will be served for the duration of the TGE, with IPSX token being worth 0,0000141 ETH. However, prior to its start, there are some final things that potential contributors need to check off their list before being able to acquire the IPSX tokens left:
Join the IPSX telegram channel
Wait for the whitelist registration to be announced and opened
Register on the whitelist and pass the KYC/AML verification
Wait for KYC approval
Take note that the contribution address will be published on the IPSX website, IPSX blog and IPSX twitter minimum 24 hours before the TGE begins. Details will also be announced on our telegram channel. Make sure to stay safe and don't fall victim to scams and hackers.
About IPSX
IPSX is a decentralized IP sharing exchange and framework, designed to facilitate building applications on top of existing IPs, shared by community members and data centers in a secure and transparent environment. It is a smart-contract based, blockchain-protocol utility token, and an incentivizing mechanism for sharing IPs among actors from all over the world.
IPSX is the first truly decentralized IP Sharing Exchange, that will create a global IP marketplace. Combined with flexible tools (SDKs and APIs) to aid entrepreneurs and developers, in a fully secured and transparent environment, IPSX will enable the development of new applications on top of already existing IPs on the IPSX sharing platform (VPN providers, Data Mining software, web crawling bots microtasks, etc). Alongside distributed storage and processing tools, IPSX will create the distributed network layer, becoming a crucial component for the next phase of the web.
The project is advised by Marco Houwen – one of the initiators of the privately-run but publicly supported NGO Infrachain A.S.B.l. The organization is supported by the Luxembourg government and has received wide praise, especially after it was adopted last year by eleven of the top players in the Luxembourg Blockchain Ecosystem.
Media Contact
Name: IPSX
Location: Hergiswil NW, Switzerland
Email: contact@ip.sx
Visit the IPSX Website: https://ip.sx
Read the Whitepaper: https://ip.sx/dist/Whitepaper-IPSX-05.pdf
Chat with IPSX on Telegram: https://t.me/IPExchange
Follow on Twitter: https://twitter.com/ipexchange1
Subscribe on Facebook: https://www.facebook.com/IPExchange
Join IPSX on Medium: https://medium.ip.sx
IPSX is the source of this content. Virtual currency is not legal tender, is not backed by the government, and accounts and value balances are not subject to consumer protections. This press release is for informational purposes only. The information does not constitute investment advice or an offer to invest.
Source: IPSX
Share: