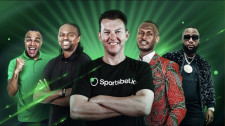 Applications are now open for the Sportsbet.io ambassador program, 'the Crypto Experience', with only 300 spots available
LONDON, England, June 29, 2023 (Newswire.com) - The world's favorite crypto-led sports betting site, Sportsbet.io, is inviting influencers, streamers, and natural-born networkers from around the world to apply for its new brand ambassadorship program.
Join the Crypto Experience
Both established influencers and those starting out on their journeys are invited to apply to the 'Join the Crypto Experience' program. Selected ambassadors will use their network and crypto know-how to introduce a luxurious and high-end Sportsbet.io ecosystem to new VIP players in return for a lucrative and game-changing brand ambassadorship partnership.
Streamers and influencers with access to VIP lifestyle networks will be strong candidates for the program. They'll join existing Sportsbet.io ambassadors, including rap legend King Kaka and former Arsenal icon Nwankwo Kanu, on the team.
Nicklas Holmberg, Marketing Manager at Sportsbet.io, stated:
"We want to empower content creators with access to the VIP segment to take their careers to the next level. Our new 'Join the Crypto Experience' program is offering those with great ambitions and greater dreams an unbelievable ecosystem to thrive on by becoming the official brand ambassador of one of the biggest lifestyle brands in the crypto world. In return, we're looking for true partners who believe in how crypto is changing the game around the world. If you think you are a good fit, we'd love to hear from you."
Only 300 Spots Available
The global scheme will be particularly focused on influencers across the Global South. With only 300 spots available making the list and a comprehensive selection process, competition will be intense, with only the most dedicated crypto ambassadors making the grade.
As well as King Kaka and Kanu, other Sportsbet.io ambassadors include Australian cricketer Brett Lee, Brazilian World Cup-winning footballer Denilson, and South African rapper Cassper Nyovest. Anyone who thinks that they have what it takes can learn more and apply for the exclusive program here.
About Sportsbet.io
Founded in 2016 as part of the Yolo Group, Sportsbet.io is the leading crypto sportsbook. Sportsbet.io has redefined the online betting space by combining cutting-edge technology with cryptocurrency expertise and a passion for offering its players the ultimate fun, fast, and fair gaming experience.
Principal sponsors of Southampton FC, Sportsbet.io provides an expansive range of betting action across all major sports and eSports, offering players more than 350,000 pre-match events per year and comprehensive in-play content.
As the first crypto sportsbook to introduce streaming across all major sports, as well as a cash-out function, Sportsbet.io is recognized as a leader in both online sports betting and within the crypto community. Sportsbet.io prides itself on its secure and trustworthy betting service, with withdrawal times of around 1.5 minutes among the fastest in the industry.
Visit the official Sportsbet.io website for more information.
Media Contact Details
Contact Name: Heidi Leid
Contact Email: press@yolo.com
Sportsbet.io is the source of this content. This Press Release is for informational purposes only. The information does not constitute investment advice or an offer to invest.
Source: Sportsbet.io
Share: