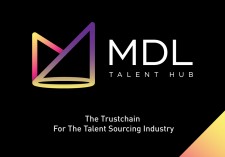 SHANGHAI, China, February 19, 2018 (Newswire.com) - MDL has announced they have achieved their hard cap for the pre-sale and the ITO is planned for March 10, 2018 with a hardcap of $20 million.
MDL Talent Hub, the trustchain for the talent sourcing industry, has achieved its pre-sale hard cap and is looking forward to its Initial Token Offering (ITO) in March 2018. The ITO is expected to raise $20m for the development of the platform, cross-border scaling and business development, as well as for R&D and further implementation of BC & PIDS technologies. MDL Talent Hub will bring transparency and efficiency, two fundamental characteristics of the new era to the talent sourcing market. This market encapsulates many varieties of talents such as dancers, actors, models, amongst many others. The project aims to consolidate supply and demand channels and establish permanent and immutable reputation scoring for each market participant.
The tools provided by MDL will help to overcome the majority of existing problems in the talent-booker relationship, including: comprehensive search for talents/gigs, reputation tracing, and convenient, standardized presentation tools for both sides.
As the project develops, a marketplace will be set up for talents and performers to exchange, sell, or rent their gear and equipment, as well as micro-KOL partnership programs with brands to advertise their products and services. This action can be performed using platform participants with high-reputation scores. Meta-data mining will be enabled via Skyledger CXO protocol. The MDL Token will support all of the above functions.
What Makes MDL Token an Interesting Long-Term Investment?
First of all, the value of the MDL token will increase from our expansion in the talent sourcing market, which is itself continually growing. Secondly, when the market saturation is reached, we are going to implement more functionalities for MDL Tokens, such as a marketplace ecosystem, partnership programs with brands, and live streaming.
Lastly, but not the least, possession of MDL Tokens will open up more functions on our platforms ("Gold Membership") features. This will be implemented via Token Hours – the longer you keep your MDL tokens, and the more tokens you have, the more Token hours you have. Thus, the platform participants will want to have more MDL Tokens in order to efficiently use the MDL Talent Hub platform. MDL token is currently partnered with two big projects with solid communities – Skyledger and YOYOW. YOYOW is a Shanghai-based project that develops blockchain infrastructure for social media on a global scale.
For more Information, visit the MDL website at http://mdl.life
See the MDL Video: http://mdl.life/#video-presentation
Meet the Team: http://mdl.life/#team
Connect on Linkedin: https://www.linkedin.com/company/18324359
Connect on Telegram: https://t.me/joinchat/BafuqEaDUdGLXyyeJDIT4A
Like on Facebook: https://fb.me/mdl.wtf
Media Contact
Contact Email: dd@mdl.life
MDL is the source of this content. Virtual currency is not legal tender, is not backed by the government, and accounts and value balances are not subject to consumer protections. This press release is for informational purposes only. The information does not constitute investment advice or an offer to invest.
Source: MDL
Share: