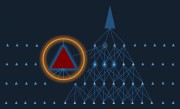 An engineering team from Australia have created a technology that allows a developer to contribute to a software project yet still retain their intellectual property, and earn Bitcoin for each contribution.
Townsville, Australia, March 22, 2016 (Newswire.com) - ​Using this new technology, it is now possible for developers to repeatedly trade their specialist design expertise in exchange for bitcoin, making this the world's first free automated market for software.
To begin trading in this marketplace, a developer creates their very own vendor, a program that acts as their automated assistant and 'intellectual property guardian.' When contracted, this vendor program will automatically carry out its owner's expertise – the developer's design decisions – for them.
Developers from all layers of the stack and all levels of abstraction (from web development to embedded systems) can create a vendor to begin trading in this marketplace. If a developer's expertise is in demand, their vendor could be contracted hundreds of times, contribute to hundreds of projects, and earn its developer a continuous stream of Bitcoin. Automatically.
This marketplace becomes a global software supply-chain inside the software development process.
"We can now have programs designed and built by the world's foremost experts at every level of abstraction,"
Says Noel Lovisa, the founder of Code Valley.
"This technology dispenses with formal runtime interfaces and uses no glue-logic whatsoever, making it the first development process of its kind capable of approaching optimal software solutions. Current methods will find it difficult to not only keep up on the productivity front, but will be hopelessly outclassed on a technical front as well, making this technology very competitive indeed."
Code Valley has already done it – their own development team have already deployed vendors to make up the beginnings of what will soon be a global marketplace.
According to their roadmap (https://codevalley.com/community#roadmap), Code Valley will release this technology in three phases; Whitney, Ford and McIlroy, with the marketplace only transitioning to a new phase once it has collectively achieved a certain milestone. The Whitney release will begin in private beta.
As of today, Code Valley is currently accepting requests for invites to the Whitney phase of release at: https://codevalley.com/community#eoi
Developers who later receive Whitney invites will have the opportunity to begin populating voids within the marketplace and securing valuable early-stage market-share. And stunningly, use the supply-chain itself to create their vendors.
The very first 'vertical' Code Valley will help the marketplace to secure is a Bitcoin vertical. When Bitcoin vendors enter the marketplace, any other developer in the world can contract them to integrate Bitcoin functionality seamlessly (and natively) into their own applications.
Bitcoin developers who create vendors that are part of the Bitcoin market-vertical now have an opportunity to be compensated in direct proportion to the quality of their contributions, restoring objectivity to what is currently a subjective system.
It is Code Valley's goal to empower the community with this technology, and then let the community take over, to build the vendors – the software – that the market wants. With the culmination of the McIlroy release, this technology will have become the world's first decentralised peer-to-peer software development system, a system underpinned by the world's first peer-to-peer decentralised currency; Bitcoin's killer app.
To learn more about Code Valley and join the project please go to: https://codevalley.com/community#eoi
Media Contact:
Name: Julie Lovisa
Email: julie@codevalley.com
City and Country Location: Townsville, Australia
Share: