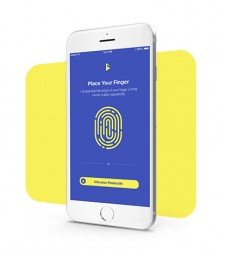 VILNIUS, Lithuania, February 25, 2018 (Newswire.com) - Safein will be the world's first payment service provider that has put in the necessary paperwork to obtain an Electronic Money Institution (EMI) license in the EU which covers crypto and fiat payments. The company's main target is to eliminate useless registrations and KYC checks by allowing its users to only do it once on its platform and then using that data whenever they are using any online service. Users can simply visit the Safein website, sign up, download the app, and try the live MVP out.
As we see an enormous growth of e-commerce, the industry itself is still ripe for improvements as growing concerns mount over data protection, cyber security, money laundering and monopolization of numerous sectors. One could argue that the internet was designed without an identity layer. Keeping track of everyday movements has become a great struggle, with users having to do things such as whip out a passport at almost every investment website.
No better from the merchant perspective. Market research shows that onboarding new users can cost an online service provider up to 20 USD per new customer joined, with a total annual bill for identity assurance exceeding 3.5 billion EUR in the UK alone. Worse, another fortune is required to properly collect, manage and store the personal data collected.
The Safein Mission
Safein is a single sign-on digital identity and payment wallet, Safein is about to revolutionize the way we pay, register, and complete identity authentication, with just one click. With Safein, the user is always in control, able to anonymously login to the online platform, allowing users to have complete control over how they spend, able to revoke access permanently with a single click. The Safein platform will allow users to see their entire activity history, including registrations, logins, and payments.
Once users have logged into Safein, they are able to make payments without providing any extra information. In fact, they can store their money in traditional currency or any crypto. Safein will automatically convert and deliver funds in the merchants preferred way. Since every payment processed is within the boundaries of Safein, they work in an instant, with minimal fees.
Safein is bringing a whole new era of identity and payment recognition on a global level. Anyone can connect with Safein on their Telegram here.
An Outstanding Architecture
Safein has been built to allow users to store their identity, as well as crypto and fiat currencies in accounts opened on our platform. Safein will go into various business areas where the combination of possessing all of the above gives benefit to its users online and offline. The main priority of Safein is to eliminate redundant registrations and KYC procedures.
At the same time, Safein will standardize crypto payments on all e-commerce websites. Currently, there is no single large-scale Payment Service Provider which accepts both fiat and crypto payments. Safein shall resolve this by allowing its users to pay for their goods directly using their Safein wallet regardless of the currency held in the account.
Safein has just released its MVP which can be tried out on their website. It allows a user to create an account, verify and tie it to their mobile device and try out effortless registrations to a few of Safein's demo websites. The Safein whitelisting will begin on March 1st. They are one of the only current TGEs with a live version of their MVP. Users can try the MVP live right here on the Safein MVP Registration page.
The Safein Token Generation Event
The SFN Token is native to the Safein network, providing users with 100 percent free payments for merchants who hold SFN. It gives monthly cashbacks for users paying with Safein tokens and enables users to use a Login pool to incentivize the use of Safein among other websites. It also has a registration pool to reward new users and a referral pool to grow the user base rapidly.
The Safein TGE is set to go live on April 25th. With a TGE soft cap of 4,000 ETH and a hard cap of 12,500 ETH, the rate for SFN tokens is 1 ETH = 7,000-9,000 SFN. Safein will hold bonus rounds and distribute accordingly.
Media Contact
Name: Vladas Jurkevičius
Location: Lithuania
Email: vladas@Safein.com
Visit the Website: https://www.Safein.com
Read the Whitepaper: https://www.Safein.com/summary/Safein_whitepaper.pdf
Medium: https://medium.com/Safeincom
LinkedIn: https://www.linkedin.com/company/Safeincom
Join on Facebook: https://www.facebook.com/Safeincom
Follow on Twitter: https://twitter.com/Safeincom
Subscribe on YouTube: https://www.youtube.com/channel/UCErwG8SaM-_Pb3Y6A-ZvV9A
Safein is the source of this content. Virtual currency is not legal tender, is not backed by the government, and accounts and value balances are not subject to consumer protections. This press release is for informational purposes only. The information does not constitute investment advice or an offer to invest.
Source: Safein
Share: