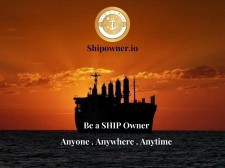 LONDON, February 26, 2018 (Newswire.com) - ShipOwner, the world's first distributed ledger platform that is focused on Maritime Assets & Services, starts token sales on 7th March 2018. Registration, verification, wallet allocation process and access to the marketplace are open.
Shipowner.io, based on Ethereum, is the world's first distributed ledger platform for participation in capital financing of the $1.5 trillion assets market and $1 trillion a year services market in the maritime industry. Access to the platform is via SHIP (Shipping Industry Participations) tokens. Sales begin on 7th March 2018.
Anyone, anywhere, at any time can now participate in any part of a capital structure backed by real-world maritime assets and services. Participation is broken down into tiny fractions, depending on the underlying asset or service, versus traditional financing routes, which involve millions of dollars per ticket, usually provided by large liquidity providers such as banks, private debt players, high net worth individuals and other financial institutions. In summary, this platform democratizes the way ships are owned, sold and operated.
Shipowner.io aims to solve core industry issues while allowing all participants, the possibility of achieving portfolio diversification, superior liquidity and an equitable sharing of benefits. It has the potential to trailblaze industry transformation towards greater accessibility, efficiency, rationality, and transparency in the flow and allocation of capital.
Built-in efficiencies in the platform bring down overall costs in a transaction while diminishing the role of the intermediary. Furthermore, the system allows for extreme levels of transparency, something which is not usual in the shipping industry. The diversification possibilities are also endless, without having to go through the cumbersome process of physically buying or selling ships or requiring permission from other participants. Anyone with a small budget can now achieve the levels of diversification, which were reserved for a select few with bottomless pockets.
The platform aims to disrupt industry consolidation, allowing smaller shipowners a level playing field versus their larger counterparts, thus creating an environment for the better operations to win. Financing and crew costs can be further optimized, through equitable revenue sharing models.
For shipowners the asset monetization process is straightforward. Following an initial evaluation, employing asset selection based on Artificial Intelligence algorithms and proprietary risk-reward models, final terms are agreed upon. The asset(s) is then transferred to a dedicated legal structure, tokenized and divided into fractions, at a low cost versus bank financing or capital markets. These fractions are then bought by Shipowner.io's platform participants using SHIPs. As soon as the sale of portions is completed, funds are transferred to the shipowner.
Easing the entry of non-crypto participants, the platform provides dedicated wallets which are unique to each participant. These wallets will be used to buy/sell within the platform and store SHIP tokens, in addition to other fractional assets and services. Meanwhile, the company is working on the next phase of its development – the online exchange. This exchange is expected to begin testing in 2Q2018 and will facilitate direct, seamless transfer of one portion with another. This provides exit possibilities to participants, without having to physically sell a ship. Currently, such a possibility does not exist at a broken-down-fractional-level.
Unlike other entrants, Shipowner.io is a working product, which has been tested and is being rolled out in phases. The founders understand the nuances of the marine industry, in which they've spent their careers. Therefore, it was a conscious effort to create a product that the marine industry can relate to, which targets the most pressing issues, and one that is built around Shipowner.io meeting the core needs of global participants.
The team behind Shipowner.io have the entire pedigree of experience from operations – technical and commercial, shipbuilding, research, risk management, investment management and portfolio management. Additionally, they have significant experience in developing enterprise level IT systems and application of blockchain technology. The company leveraged the founders' successful existing marine businesses, already securing commitments in excess of $200 million for marine assets and services which are looking to raise finance via this innovative channel. The target is to finance $14 billion of assets and services by 2023.
To learn more visit the Website: https://shipowner.io
Meet the Team: https://shipowner.io/team
Read the Whitepaper: https://shipowner.io/whitepaper
Catch us on YouTube: https://www.youtube.com/channel/UCoafcK-4znvnARrVXdHNtUQ
Media Contact
Contact Name: Mitul Dave
Contact Email: info@shipowner.io
Shipowner.io is the source of this content. Virtual currency is not legal tender, is not backed by the government, and accounts and value balances are not subject to consumer protections. This press release is for informational purposes only. The information does not constitute investment advice or an offer to invest.
Source: Shipowner.io
Share: